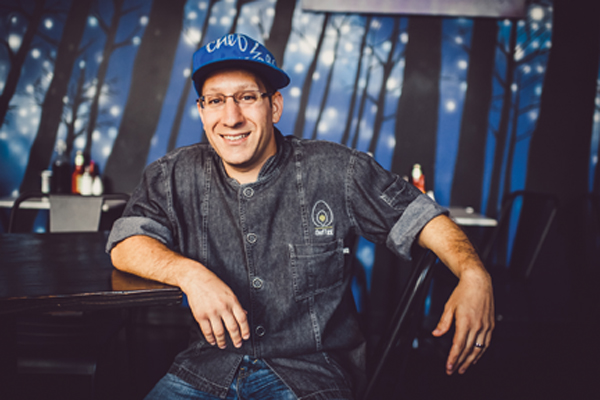 One chef aims to get our restaurant-obsessed culture cooking again.
Erik Berlin, better known as Chef Egg, is a chef, educator and entertainer who can be seen regularly at the Downtown Baltimore Farmers Market and events like Artscape and the Baltimore Book Festival, as well as teaching classes at Blue Moon Too and Union Craft Brewery. Berlin grew up in Columbia and earned a degree in hospitality management from the University of Maryland. He worked as a personal chef for Dan Snyder, owner of the Washington Redskins, and then for nine years as an instructor at Whole Foods Market. Berlin hosts a web show called "Cooking with Egg" and recently published a children's book, The Kitchen Comes to Life. In October, Chef Egg will teach a seafood class at Mt. Vernon Marketplace, part of an ongoing series with The Local Oyster. For information, see his website, chefegg.com.
Why cooking classes and not a restaurant?
There are a ton of great chefs and great restaurants. Nobody's out there teaching people to cook for themselves. It's breeding a generation of food snobs who think going to a restaurant and critiquing it is the art.
I saw an article that said restaurants can't turn over their tables fast enough now because people are spending so much time on their phones—an extra 15-20 minutes—taking pictures of the food.
These diners are trying to brag to the digital world about what they're eating. I've been trying to combat that.
What's your plan of attack?
I want you to pick up a knife and learn for yourself. I want to give you skills to succeed in the kitchen. People lose track that cooking is a way to fight obesity. It's also a way to help your monthly budget and spend more time with your family. It's also a great way to come down from the day. You can work on meditation while doing something productive. Cooking is multi-faceted in a way no other activity is.
So, no more food porn?
The stuff you see on Instagram and Facebook is not a realistic view of what you should be eating to live a healthy life. Bacon-wrapped bacon meatloaf is cool to look at, but you can't eat it every day or you'll die. A grilled cheese sandwich has 50 grams of fat as it is. If you dip it in pancake batter and fry it, you're just being an asshole. You have to learn how to make a stir-fry, or some chicken with wine, something you can eat on a day-to-day basis.
Sometimes I look in my fridge, and while it's filled with food, I can't figure out what to make.
Intuitive cooking is the idea that you can look in your refrigerator and pantry and know how to pair things up. Today is Tuesday, so we obviously want tacos. I have a sweet potato, a can of black beans in the cupboard and some old taco seasoning. I can easily make a burrito bowl or a taco salad with the old lettuce in the fridge. Anything can go in a taco.
Knowing what you need for each international flavor sets you free.
We always have garlic, lemon and oregano. If you want to do something French, have herbes de Provence around the house. If you want to get really fancy, go to the wine store and buy one of those little cardboard boxes of wine.
Tell me about the Farmers Market demonstrations.
The Farmers Market has been a great partner. Chefs would come and prepare a recipe, and I said, "Just bring me cool stuff from the market, and I'll make you an original dish." When people say, "Where is this bread from? Where are these eggs from?" I just point to the vendor. We did peach and corn salsa, we did a pork chop with greens. We always do ratatouille in July and early August. In October, it's late summer stuff. I literally won't know what I'm doing till I get there.
What was food like growing up?
My mother and grandmother cooked, but not well. I don't come from a family of cooks, so that was the inspiration to learn how to cook and be a chef. I always dreamed of coming from an Italian family where we had big Sunday dinners and Feast of the Seven Fishes.
So the message is that you can start late.
Yes, there's such a thing as a first- generation culture of cooking.
Where do you start?
Always start with knife skills. Once you know knife skills, and how to sauté or steam or braise something, you can learn how to cook something that is not processed. Let's make beef stew. You need vegetables and you need beef.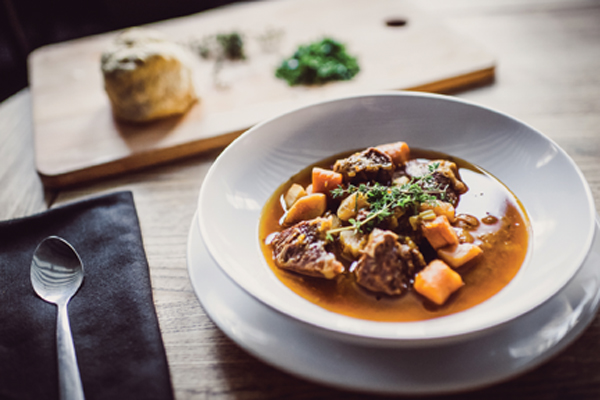 Autumn Beef Stew
Courtesy of Chef Egg
Serves 6-8 as a main course
3          tablespoons oil
2          pounds beef chuck, 1-inch cubes
1          tablespoon salt
1          teaspoon pepper
1          tablespoon dried herbs
of Provence
1          cup flour
2          strips bacon
1          onion, small dice
1⁄2       cup celery, small dice
2          cups carrots, large dice
2          tablespoons tomato paste
12        ounces local beer—I like Union
Craft's "Duckpin"
2          quarts strong beef stock
3          bay leaves
1          cup sweet potato, large dice
2          cups parsnips, large dice
1          cup butternut squash, large dice
1          teaspoon sugar
1          tablespoon Worcestershire sauce
Salt and pepper to taste
Preheat a 6-8 qt. pot over medium heat and add the oil.
Dry the beef well with paper towels. Season with salt, pepper and dried herbs then toss lightly in the flour.
Place the bacon in the pot, brown on both sides and then remove.
Place the beef in the hot oil. Brown the beef on all sides in several batches.
Remove from the pot.
Add the onion, celery and carrots to the pot. Cook 8 minutes, tossing every 2 minutes.
Add the tomato paste and stir into the vegetables. Cook for 3 minutes.
Add the bacon, beef, beer, beef stock and bay leaves. Cover and simmer for 90 minutes. Add more water if the stew gets too thick.
Add the sweet potato, parsnips and squash. Cover and simmer for 45 minutes. The beef should be very tender and the vegetables semi firm.
Stir in the sugar and Worcestershire sauce, then season with salt and pepper to taste.