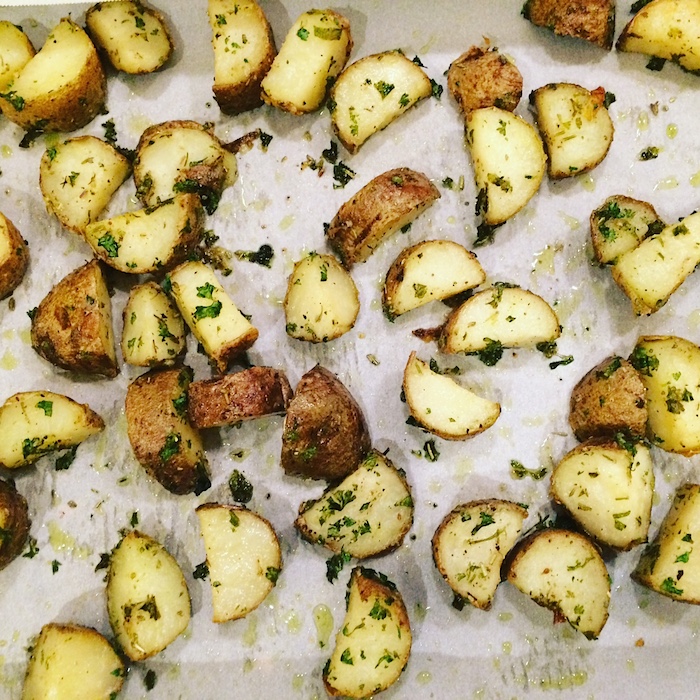 Roasted potatoes are one of my favorite sides and they go great with breakfast, lunch or dinner. This recipe is very basic, so you can use any kind of potato you have on hand (white, Idaho, yukon gold, red skin, sweet potato and yams). Feel free to switch up flavors to match your tastes, budget or whatever you have in the kitchen. I like roasted potatoes with roasted, grilled or baked meats like chicken, steak, fish and pork chops. You can also serve these on the side of some eggs and bacon or create a chilled roasted potato salad with the leftovers.
Now Let's Get Cooking!
Chef Egg
Herb Roasted Potatoes

5 C Potatoes, diced
2 tsp. Salt
2 tsp. Butter
2 tsp. Olive Oil
2 tsp. Dried Herbs – Italian Herbs or French Herbs aka Herbs D' Province
1/3 C Fresh Parsley
1/2 tsp. Salt and Pepper
1. Pre heat your oven to 450 F. Place the potatoes and salt into a medium pot then cover with water by one inch. The high heat is going to crisp up the potatoes quickly without drying them out too much and the salt in the water will help to season the potatoes on the inside.
2. Place the pot over medium/high heat and bring to a boil. Once it boils, cook for 7 minutes and then drain very well. Starting out with cold water and then bringing to a boil will help the diced potatoes cook evenly. Boiling before baking will help to make the potatoes fluffy when you eat them. Draining the potatoes well will keep then from getting mushy and help them to brown evenly.
3. Place the potatoes and the rest of the ingredients into a bowl and toss to coat well.
4. Place the potatoes on a parchment paper lined baking sheet and bake for 25 minutes. Turn the potatoes and continue to cook for 20 minute or until crispy and golden brown. The parchment paper is used to create non stick surface on your baking sheet, it is also biodegradable. It is a little more expense that aluminum foil, but is a great tool to use for everyday cooking.