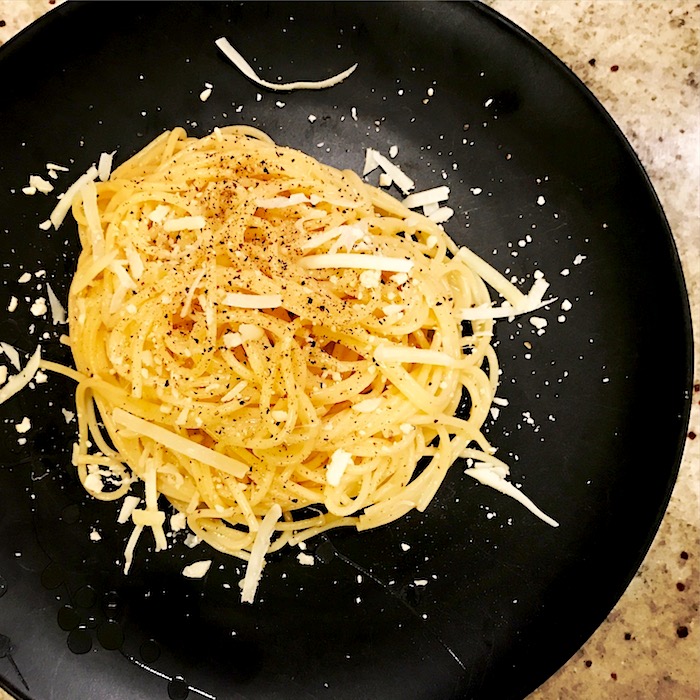 Pasta Cacio y Peppe is a classic Italian pasta dish from Rome. Pasta is cooked to "Al Dente" or "To the Tooth" and is then cooked in a light sauce made from starchy pasta water, butter, cheese and fresh pepper. This simple recipe is basically pasta tossed in cheese and pepper and can be made for a simple and inexpensive lunch or dinner. This is also a great recipe to bust out if you want to impress friend while on a budget.
Pasta Cacio e Peppe aka Pasta w. Cheese and Pepper

8 oz. Spaghetti
1 tbsp. Salt
3/4 C Pasta Water
3 tbsp. Butter
1/2 C Parmesan Cheese, grated
1/4-1/2 tsp. Fresh Pepper
1 pinch Salt
1. Bring 3 – 4 quarts of water to a rapid boil. Place the salt in the water, stir in the pasta and cook for 8 minutes. This will cook the pasta until it is "Al Dente" and will be slightly undercooked.
2. Remove 3/4 of a cup of the pasta water and then carefully drain the pasta well. The pasta water will be used to help make the sauce.
3. Place the pasta water and butter into the pot and stir together well over low heat. Add the hot pasta, cheese, pepper and salt to the pot and toss very well. The starchy pasta water, butter and cheese will melt together and form a cheesy and peppery sauce that will lightly coat every strand of pasta. The slightly undercooked pasta will finish cooking in the sauce while it soaks in more flavor.
Serve this immediately with fresh pepper and more cheese on top.