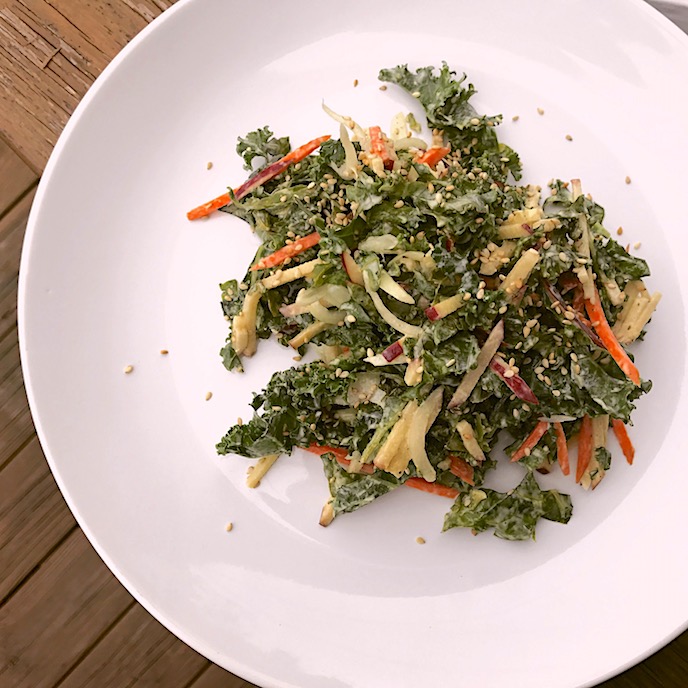 BBQ season is near and nothing goes better with grilled meats that a cool and tangy slaw. Check this recipe for a simple and healthy kale/apple slaw. The motivation came as I was cleaning out my fridge one day and needed to create a cool side to go with some BBQ chicken. I saw the kale starting to wilt in the back of the fridge and knew this would be a great base for a crunchy slaw. I used my cheap plastic mandolin to cut apple and carrots into thin matchsticks and then sliced up some onion for kicks. The onion I sliced was very strong, so I rinsed it in cold water to remove the overpowering flavor and aroma. I also had a bit of red bell pepper in the produce bin, so I sliced it thin and threw it in.
The dressing is fairly standard using mayo and sour cream as a base and then adding sour and sweet flavors with apple cider vinegar and brown sugar. The flavor was a little dull so I seasoned the dressing with half of a lemon and a nice pinch of salt and pepper. I had some random sesame seeds in the cabinet, so on they went for a garnish. The slaw barely made it around the table as everyone piled heaping spoonfuls over grilled chicken and pork loin.
Now Get Cracking! Chef Egg
Kale and Apple Slaw w/ Creamy Apple Cider Dressing

4 C Kale, sliced very thin
1 Apple, matchsticks
1/3 C Carrot, matchsticks
1/3 C Red Bell Pepper, sliced very thin
1/4 C Onion, sliced thin and rinsed in cold water
3 tbsp. Mayo
3 tbsp. Sour Cream
3 tsp. Brown Sugar
1 tbsp. Apple Cider Vinegar
1/2 Lemon, juiced
1/8 tsp. Salt and Pepper
Sesame seeds, Sliced Almonds, Chopped Walnuts, Sunflower Seeds, Pumpkin Seeds, for garnish
Place the first 5 ingredients into a bowl. Place the remaining dressing ingredient into another bowl, mix to combine and adjust seasoning to taste. Pour the dressing over the veggies and toss to combine. Place in a sealed container in the fridge until service.