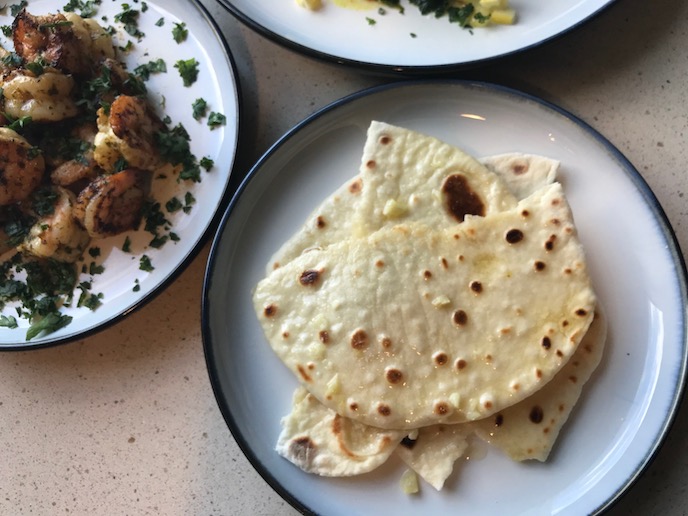 Fresh Indian naan flatbread is one of the main reasons to go out for Indian food. But if you can make it at home, you can save tons of "dough" and utilize this recipe for many styles of world cuisine. While baking is not my thing, this recipe is really easy and a huge crowd pleaser. You can cook this on the stove top, pop it on a grill or use a really hot oven. The naan comes out tender and tasty everytime!
Now Get Cracking!
Chef Egg
Homemade Indian Naan

½ C Warm Water
1.5 tsp.Yeast
1 tsp. Sugar
2 C AP Flour
1 tsp. Salt
½ C Greek Yogurt, Full Fat Version
1 tbsp. Olive Oil
2 tbsp. Ghee or Butter, melted
1 tsp. Kosher Salt
Mix the water, yeast and sugar and let rest for 10 minutes. The yeast will begin to bloom and become puffy at the top of the bowl. Place the flour, salt, yogurt and oil into a mixing bowl, pour in the yeast mixture then mix to form a ball of dough. Kneed the dough for 5 minutes on a floured surface until it is smooth. Cut the dough into 8 pieces, place on a lightly oiled baking sheet, cover in plastic and let rise for an hour. Pre heat a heavy skillet over medium high heat. Lightly flour your work surface and roll the pieces of dough out very thin. Place the dough on the skillet, cook for 30 seconds, turn and repeat. The dough will start to bubble immediately. Baste the finished naan with ghee/butter and sprinkle with kosher salt.